Are you looking for a way to enhance the beauty of your home? Sunmica sheet design ( sunmica design ) is a material that can be used to transform the look and feel of your interiors. It is a durable and versatile material that has become increasingly popular in recent years. In this blog, we will explore the beauty of printed Sunmica design and how it can improve the aesthetics of your home. We will also discuss the different Sunmica designs available in the market and how to choose the best sunmica design colour for your home. So, let's discover the world of latest Sunmica design and find out how it can take your home's interiors to the next level.
What is Sunmica Sheet and Its Uses?
Sunmica sheet is a type of decorative laminate that is used to cover surfaces such as furniture, walls, and countertops to give them a decorative and protective finish. It is made up of layers of paper or fabric that are impregnated with resin and bonded together under high pressure and temperature to form a hard and durable surface. Sunmica sheets are available in a wide range of sunmica colours, patterns, and finishes, making it easy to customize the look of your home or office. They are affordable, easy to install, and easy to clean and maintain, making them a popular choice.
Uses of Sunmica Sheets:
Covering furniture surfaces such as table tops, cabinets, and wardrobes to add a decorative and protective finish.

Covering walls to add texture, colour, or pattern to a room.

Covering countertops and kitchen cabinets to protect them from scratches, stains, and heat.

Making decorative panels for doors, partitions, and room dividers.

Creating custom decorative pieces such as wall art or decorative accents.
What are the Most Popular Sunmica Finishes?
With 1573+ designs, Advance Laminates provides the best shades, finishes and textures. Explore the most popular sunmica finishes that have 11 years of guarantee and quality assurance.
Glossy finish:

This finish has a shiny, reflective surface that gives a modern and sophisticated look to your furniture or decor. It's easy to clean and maintain, making it a popular choice for kitchens and bathrooms.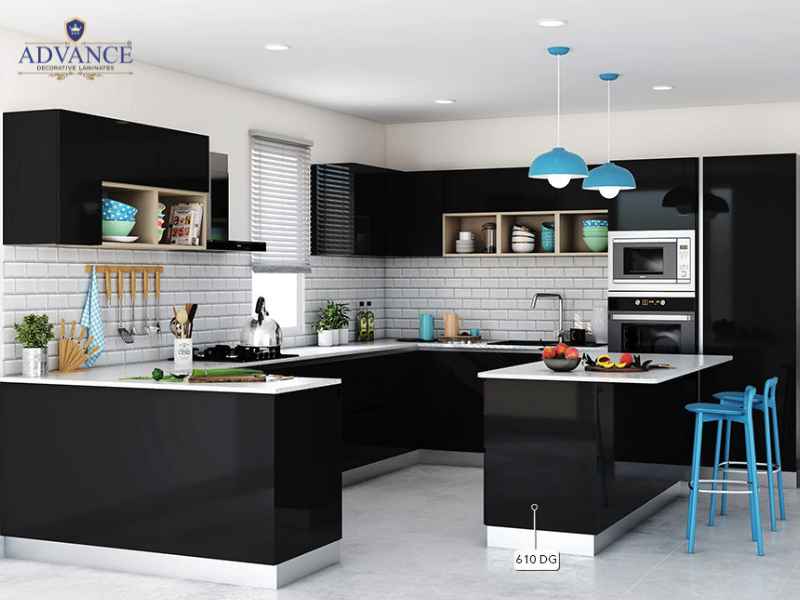 Matte finish:

Matte Sunmica finish has a smooth, non-reflective surface that adds a soft and subtle texture to your furniture or decor. It's an excellent choice for minimalist or contemporary designs.
Textured Sunmica Design finish:

Textured Sunmica finish has a rough or embossed surface that adds depth and visual interest to your furniture or decor. It's a popular choice for accent walls or feature walls.
Woodgrain finish:

Woodgrain finish has a realistic wood-like texture that adds warmth and natural beauty to your furniture or decor. It's a popular choice for creating a rustic or traditional look.
Metallic finish:

Metallic finish has a shiny, metallic surface that adds a touch of glamour and sophistication to your furniture or decor. It's a popular choice for creating a modern and industrial look.
When choosing a Sunmica finish, consider the overall style and look you want to achieve, as well as the durability and maintenance required for each finish.
Best Sunmica Design For Your House In 2023
Sunmica design come in a wide range of sunmica colours, patterns, and textures, making them a popular choice for interior design. Here are some popular Sunmica design trends for 2023: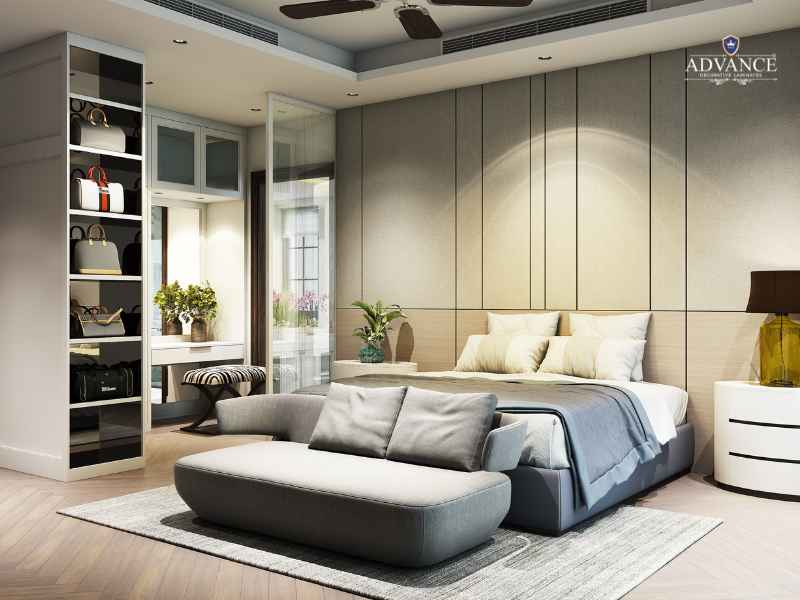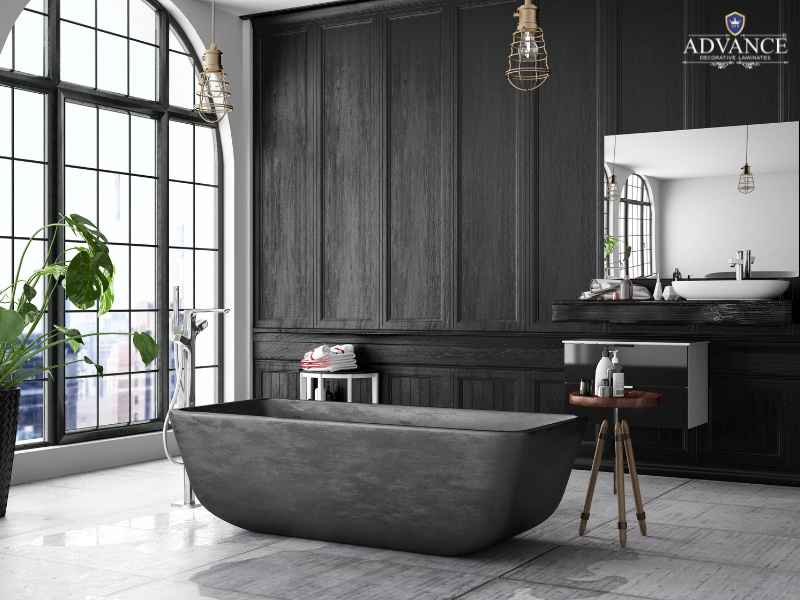 Ultimately, the best Sunmica design for your house will depend on your personal taste, the style of your home, and the room you're decorating. Don't be afraid to experiment and have fun with different colours, patterns, and textures until you find the perfect Sunmica design for your space. For more such designs you can download our Sunmica catalogues.
Benefits of Sunmica Sheet
Talking of sunmica, its use is not limited to one space, its versatile nature makes it a best fit for a variety of uses.
Durability:

Sunmica sheets are hard and durable surfaces that can resist scratches, stains, and heat.

Easy maintenance:

Sunmica sheets are easy to clean and maintain, making them ideal for kitchens and bathrooms.

Cost-effective:

Sunmica sheets are cost efficient options to enhance the appearance and functionality of any space.

Versatility:

Sunmica sheets can be used to cover a wide range of surfaces, including furniture, walls, countertops, and appliances.

Easy installation:

Sunmica sheets are easy to install, allowing you to transform the look of your space quickly and easily.
Tips on Choosing Best Sunmica Sheet For Your Home
Selecting the right Sunmica sheet for your home can be challenging and requires expert advice. Consult with manufacturers like Advance Laminates, who have extensive knowledge of the materials. Here are some of the tips for choosing the best sunmica sheet for your home.
Consider the colour and pattern:

Choose a Sunmica sheet that complements the colour scheme and style of your home. Look for patterns and colours that will enhance the overall look and feel of your space.

Check the quality:

Make sure the Sunmica sheet you choose is of high quality, with a durable surface that can resist scratches, stains, and heat.

Choose the right finish:

Sunmica sheets come in a variety of finishes, including matte, glossy, and textured. Choose a finish that will best suit your needs and style preferences.

Think about the purpose: Consider the purpose of the Sunmica sheet For Kitchen. For kitchen countertops or bathroom walls, opt for moisture and heat-resistant Sunmica sheets.
Measure the area:

Measure the area you plan to cover with the Sunmica sheet to ensure you buy the correct size. You may also want to consider how many sheets you need to complete your project.

Look for trusted brands:

Choose a trusted brand of Sunmica sheet that has a reputation for quality and durability.
Sunmica Price Consideration Before Buying Laminates:
Sunmica is a brand of decorative laminates used for furniture and interior design. When considering the Sunmica Price, there are a few things to keep in mind:
Quality:

The quality of Sunmica laminates can vary, with some being more durable and long-lasting than others. Premium Sunmica may cost more, but can save money in the long run by lasting longer and needing less maintenance.

Design:

Sunmica laminates come in a wide range of designs and patterns, some of which may be more expensive than others. More intricate or complex designs may cost more due to the additional labour and materials required to produce them.

Thickness:

Sunmica laminates come in different thicknesses, and thicker laminates are generally more expensive than thinner ones. Thicker laminates provide better durability, but can be heavier and more difficult to handle

Size and quantity:

The Sunmica price can also vary depending on the size and quantity you need. Buying in bulk or choosing larger sheets may be more cost-effective than buying smaller quantities or sizes.
Conclusion:
In conclusion, Sunmica sheet design offers endless possibilities for elevating the aesthetics of your home. Sunmica sheets are not only durable and low-maintenance, but also versatile in design, making them suitable for any interior style. From natural textures to bold patterns and minimalist finishes, there's a Sunmica design to match your unique taste and vision. By choosing Sunmica sheet design for your home, you can create a personalized and visually stunning space that reflects your personality and style. So, don't hesitate to explore the various Sunmica sheet designs of Advance Laminates and take the first step towards transforming your home into a beautiful and functional haven.
If you have questions about our range of Sunmica Sheet Design or to discuss your requirements, simply call 9821698171, or write to us at [email protected]
The Coronavirus pandemic, COVID 19 outbreak has caused serious injury to every working sector, hence compelled almost all firms to deploy work from home practice for all the employees. Many may be used to this, others may find it very frustrating and they may lose their excitement in work.
In India, in order to reduce the spread of the coronavirus pandemic, first schools and malls shut down across the country and to further curb the situation, businesses started asking employees to Work From Home where it is possible.
To make most of your work from home easy, make sure to follow these important points that may be beneficial for you.
Create a workspace in your house that is conducive for work from home
Work in a room behind a closed door is an ideal choice while selecting the best workspace for work from home. A clean and tidy room improves concentration and productivity. A proper desk and ergonomic work chair can help to reduce the risk of backache.
Try to be productive but don't expect from day 1
Don't expect to be super-productive from day 1, rather schedule your work. Do the toughest tasks in the morning and calls in the afternoon and by evening make sure to do the remaining lite tasks before making per day report. 5 mins after working for a continuous 25 mins would relax your mind. Listening background sound on your speaker helps your focus.
Plan your workflow
In order to make the workflow go smooth, you need to prioritise your projects and schedule time slots. Avoid being multi-tasking and frequent switching as it is a productivity killer.
Avoid Social media distractions
Social media distractions are deadly productivity killers while working from home. In your laptop or desktop browser, remove all the social media extensions and switch off all the notifications.
Stay committed to your timings and deliverables
You must remember, you are earning a salary in the work from home situation. Keep your focus primarily on timings and deliverables. Never compromise your professional respect, else may lose your job.
Avoid excessive conversation at home
To be focussed at work, you must avoid excessive conversation at home as it may hamper your work schedule and reducing your regular performance. Take some time for self-evaluation to make things go smooth and steady.
Last but not least – Balance your lifestyle at home
Make sure to follow rules and boundaries to protect your personal life from work as any single negligence may hamper your work from the home strategy.
Advance Decorative Laminates is one of India's largest decorative laminates manufacturing companies that work on the latest innovation on work. It is one of the few that offers QR Code technology with the help of which users can scan and see full sheet application images. QR Codes have been added to every design that has made the folder more user-friendly, hence, enabling users to scan any of the designs with any of the available apps and it will redirect to the full figure of the design.
About QR Code
A QR Code (Quick Response code) is a machine-readable optical label that contains the information of the item to which it is attached. After the adoption of the technology by Advance Decorative Laminates, users can readily select the designs to search the product details.
The QR Code can be easily scanned on Android as well as iPhones without downloading an external app. It is safe in terms of time and usage of critical information.
Benefits of QR Codes – Advance Decorative Laminates
Users can select designs in a better and faster way
After scanning, users gets directly redirected to the respective designs
Highly user-friendly
We invite you to browse our collections with the help of QR Codes for better and faster usability. Give us a call at 18001034740 | +91 9821 698 171 or drop an email – [email protected].
To know more about Advance Decorative Laminates: Visit Our Website.
While planning for decorating your home interiors, you always prefer it to look appealing to crip and smooth design. Laminates and Veneers are the most commonly used decorating materials for definitive looks. There are certain facts that make laminates a step ahead of Veneers for home decor, aesthetics, affordability, and ease of maintenance.
What makes Laminates so lucrative?
Learning more about the interesting facts on Laminates v/s Veneers definitely makes a sense.
Availability and affordability:
In the case of laminates, The cost of production is low, machine-made with beautiful and attractive customizations and this is what makes it widely available. On the other hand, although Veneers can be strained and textured as required, it takes a lot of time and the cost of production is high.
Durability, strain, and resistance:
Laminates are termite proof, highly resistant to moisture, strong and easy to maintain. It is easy to clean and take care of laminates. Best for damp areas like kitchens and tabletops. On the other hand, Veneers are highly prone to termites and abrasions if not taken proper care like time to time polishing. The veneer sheet may bubble or warp due to moisture or heat exposure.
Availability of colours and designs:
Due to the availability of endless designs, whether it be glossy or rough texture, laminates can replicate surface finishes viz., lather, marble, wood, stone, etc. Also, personalised prints can be done on the sheets by some digital printers. On the other hand, although veneers can lead to a high-end look, still lacks endless design options.
Strength and Maintenance:
As laminates are produced two or more layers under high pressure, it is highly durable with exceptional strength level. On the other hand, the quality and strength of veneers are largely dependent on workmanship and installations.
It is highly evident that laminates hold great advantage over the veneer and many of its aspects are value-added. So, are you wondering where to get the best laminates?
If you are looking for the best laminates with great deals in India, follow the links below
Decorative Laminates/MICA:
1 mm laminate.
0.8 mm laminate.
Door skin.
Digital Laminate.
For PVC laminates, click here.
Laminates
Laminates are a finishing material that is used over wood. This can be used for wooden furniture, particle wood, MDF, wall paneling or any other form. The laminate is a covering that not only protects the wood but gives it a finish and a good appearance. Laminates can be obtained from any of the top Laminates suppliers in India. They are nothing but an artificial material that is made by pressing paper layers and resins. The outer surface of the laminate would be having a color of a pattern to give a finishing. (more…)
Are you planning to redo your furniture? Are you looking for the best and stylish option to make your furniture look attractive? Then, you need not look any further than the Decorative laminates from Advance Lam. These excellent sunmica laminates have a unique design that makes your interiors look stylish and highly attractive. (more…)