Are you looking for a way to enhance the beauty of your home? Sunmica sheet design ( sunmica design ) is a material that can be used to transform the look and feel of your interiors. It is a durable and versatile material that has become increasingly popular in recent years. In this blog, we will explore the beauty of printed Sunmica design and how it can improve the aesthetics of your home. We will also discuss the different Sunmica designs available in the market and how to choose the best sunmica design colour for your home. So, let's discover the world of latest Sunmica design and find out how it can take your home's interiors to the next level.
What is Sunmica Sheet and Its Uses?
Sunmica sheet is a type of decorative laminate that is used to cover surfaces such as furniture, walls, and countertops to give them a decorative and protective finish. It is made up of layers of paper or fabric that are impregnated with resin and bonded together under high pressure and temperature to form a hard and durable surface. Sunmica sheets are available in a wide range of sunmica colours, patterns, and finishes, making it easy to customize the look of your home or office. They are affordable, easy to install, and easy to clean and maintain, making them a popular choice.
Uses of Sunmica Sheets:
Covering furniture surfaces such as table tops, cabinets, and wardrobes to add a decorative and protective finish.

Covering walls to add texture, colour, or pattern to a room.

Covering countertops and kitchen cabinets to protect them from scratches, stains, and heat.

Making decorative panels for doors, partitions, and room dividers.

Creating custom decorative pieces such as wall art or decorative accents.
What are the Most Popular Sunmica Finishes?
With 1573+ designs, Advance Laminates provides the best shades, finishes and textures. Explore the most popular sunmica finishes that have 11 years of guarantee and quality assurance.
Glossy finish:

This finish has a shiny, reflective surface that gives a modern and sophisticated look to your furniture or decor. It's easy to clean and maintain, making it a popular choice for kitchens and bathrooms.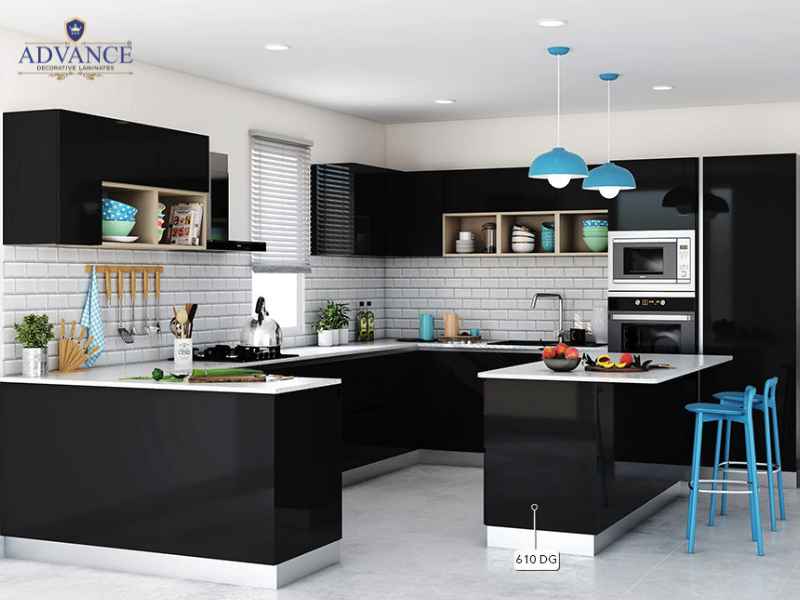 Matte finish:

Matte Sunmica finish has a smooth, non-reflective surface that adds a soft and subtle texture to your furniture or decor. It's an excellent choice for minimalist or contemporary designs.
Textured Sunmica Design finish:

Textured Sunmica finish has a rough or embossed surface that adds depth and visual interest to your furniture or decor. It's a popular choice for accent walls or feature walls.
Woodgrain finish:

Woodgrain finish has a realistic wood-like texture that adds warmth and natural beauty to your furniture or decor. It's a popular choice for creating a rustic or traditional look.
Metallic finish:

Metallic finish has a shiny, metallic surface that adds a touch of glamour and sophistication to your furniture or decor. It's a popular choice for creating a modern and industrial look.
When choosing a Sunmica finish, consider the overall style and look you want to achieve, as well as the durability and maintenance required for each finish.
Best Sunmica Design For Your House In 2023
Sunmica design come in a wide range of sunmica colours, patterns, and textures, making them a popular choice for interior design. Here are some popular Sunmica design trends for 2023: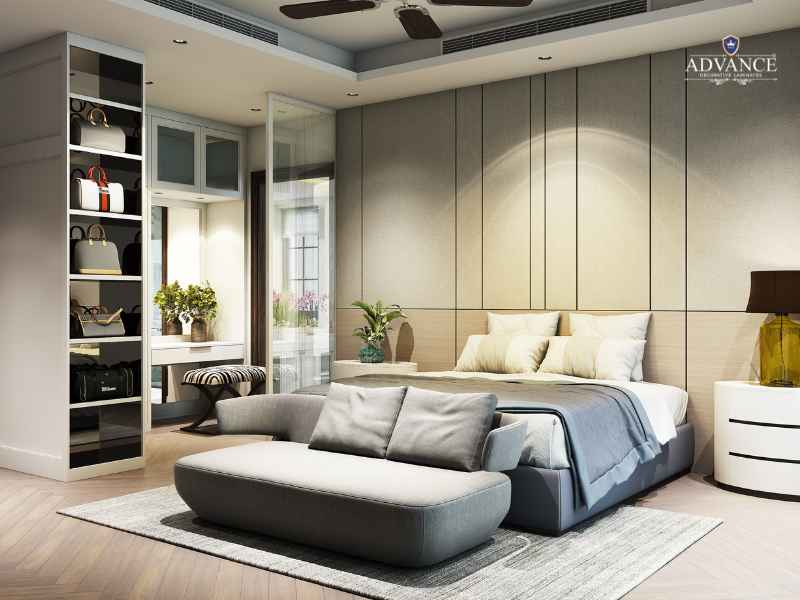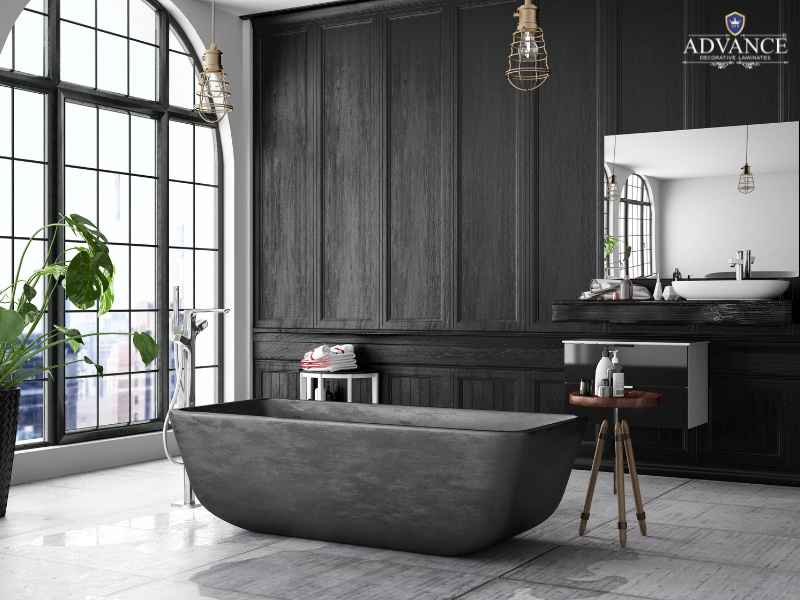 Ultimately, the best Sunmica design for your house will depend on your personal taste, the style of your home, and the room you're decorating. Don't be afraid to experiment and have fun with different colours, patterns, and textures until you find the perfect Sunmica design for your space. For more such designs you can download our Sunmica catalogues.
Benefits of Sunmica Sheet
Talking of sunmica, its use is not limited to one space, its versatile nature makes it a best fit for a variety of uses.
Durability:

Sunmica sheets are hard and durable surfaces that can resist scratches, stains, and heat.

Easy maintenance:

Sunmica sheets are easy to clean and maintain, making them ideal for kitchens and bathrooms.

Cost-effective:

Sunmica sheets are cost efficient options to enhance the appearance and functionality of any space.

Versatility:

Sunmica sheets can be used to cover a wide range of surfaces, including furniture, walls, countertops, and appliances.

Easy installation:

Sunmica sheets are easy to install, allowing you to transform the look of your space quickly and easily.
Tips on Choosing Best Sunmica Sheet For Your Home
Selecting the right Sunmica sheet for your home can be challenging and requires expert advice. Consult with manufacturers like Advance Laminates, who have extensive knowledge of the materials. Here are some of the tips for choosing the best sunmica sheet for your home.
Consider the colour and pattern:

Choose a Sunmica sheet that complements the colour scheme and style of your home. Look for patterns and colours that will enhance the overall look and feel of your space.

Check the quality:

Make sure the Sunmica sheet you choose is of high quality, with a durable surface that can resist scratches, stains, and heat.

Choose the right finish:

Sunmica sheets come in a variety of finishes, including matte, glossy, and textured. Choose a finish that will best suit your needs and style preferences.

Think about the purpose: Consider the purpose of the Sunmica sheet For Kitchen. For kitchen countertops or bathroom walls, opt for moisture and heat-resistant Sunmica sheets.
Measure the area:

Measure the area you plan to cover with the Sunmica sheet to ensure you buy the correct size. You may also want to consider how many sheets you need to complete your project.

Look for trusted brands:

Choose a trusted brand of Sunmica sheet that has a reputation for quality and durability.
Sunmica Price Consideration Before Buying Laminates:
Sunmica is a brand of decorative laminates used for furniture and interior design. When considering the Sunmica Price, there are a few things to keep in mind:
Quality:

The quality of Sunmica laminates can vary, with some being more durable and long-lasting than others. Premium Sunmica may cost more, but can save money in the long run by lasting longer and needing less maintenance.

Design:

Sunmica laminates come in a wide range of designs and patterns, some of which may be more expensive than others. More intricate or complex designs may cost more due to the additional labour and materials required to produce them.

Thickness:

Sunmica laminates come in different thicknesses, and thicker laminates are generally more expensive than thinner ones. Thicker laminates provide better durability, but can be heavier and more difficult to handle

Size and quantity:

The Sunmica price can also vary depending on the size and quantity you need. Buying in bulk or choosing larger sheets may be more cost-effective than buying smaller quantities or sizes.
Conclusion:
In conclusion, Sunmica sheet design offers endless possibilities for elevating the aesthetics of your home. Sunmica sheets are not only durable and low-maintenance, but also versatile in design, making them suitable for any interior style. From natural textures to bold patterns and minimalist finishes, there's a Sunmica design to match your unique taste and vision. By choosing Sunmica sheet design for your home, you can create a personalized and visually stunning space that reflects your personality and style. So, don't hesitate to explore the various Sunmica sheet designs of Advance Laminates and take the first step towards transforming your home into a beautiful and functional haven.
If you have questions about our range of Sunmica Sheet Design or to discuss your requirements, simply call 9821698171, or write to us at [email protected]
The biggest question when you are renovating your home, repainting it or simply selecting accent pieces to decorate it, there is one question that bothers everyone is should we keep it Matt or Glossy. So let's first understand super matt Laminates. The matt laminate is more of a 'natural' look that provides a softer look, as it can produce lower contrast on darker colors. The texture of a matt laminate is velvety, which makes it a pleasant handling experience for numerous users. Matte surfaces are great for giving your home a rustic or traditional look. It is suited for a darker aesthetic
Benefits
1. The Scratches and imperfections in Matt laminates are not visible easily
2. They diffuse light and add richness to your space.
3. They add smooth and subtle finish, without any shine.
4. Since there is no reflection of light, there is increased color consistency, making the color appear smoother
5. They look rich and attractive.
Applications
1. Bedrooms and Living rooms: These are the places where you spend the most of your time in home. So using super matt laminates helps you eyes in soothing and relaxation. Also being super durable, you need not to change them quite often.
2. Wardrobes: The wardrobes are used harshly and very carelessly in our homes, so matt laminates offer you good quality aesthetic looks in economic ways to build your wardrobes.
3. Doors: If you choose Matt laminate for doors the benefit you get is they are better suited to a traditional decor theme. They make the marks and scratches less noticeable. Matt laminate is excellent choice for busy, family kitchens where small children may bang the doors with their toy truck, or clumsy teenagers are stomping around the room.
4. Kitchen cabinets: The matt surface of the cabinets will not as easily show any imperfections, smudges, stains or fingerprints. This is all thanks to the absence of light being reflected on the surface. It blends well with the glossy stove tops and tiles of your kitchen.
5. Tops (Work, Desk and Table): Matt laminates provides a very contemporary, modern, individual and fresh look to your work, desk and table tops. It creates a muted texture for a pared-back scheme. It is very easy to keep clean and goes well with the trend. They are low-maintenance option which is mostly on the top priority list of interior designers.
6. Flooring: The matte finish laminates are perfect choice for flooring as they are completely lustreless and non shiny, they are scratch resistant. They suit well for all types of furniture as well. They are durable and require less maintenance.
Advance Laminate manufacture good quality and précised engineered laminate sheets with an anti-fingerprint surface along with a smooth satin finish. The Decorative laminates are highly resistant to scratches and are available in a wide range of colors. The technology used makes the surface trendy super-matt. You can find variety of these super matt laminates within your budget here.
All of us go through the job of ours to get the specific things perks we desire for us and home is one of them. It is evident that your place should look and feel great to you and to others. Interior design plays an important role in the makeover of the house and Sunmica laminates are predominant in interior design nowadays. (more…)