Are you tired of the same old look of your living room? Do you want to upgrade your entertainment space with a stylish and modern touch? Look no further than sunmica designs for your TV unit!. In this blog, we'll showcase 10 stylish sunmica designs for TV units that can add a new dimension of style and elegance to your living room. These designs will help you transform your entertainment space into a place of comfort and sophistication. So, let's dive in and explore the latest trends and styles in sunmica designs for TV units!
Marble Elegance Sunmica Design For Entertainment Space
A sunmica design that mimics the look of luxurious marble can create a sophisticated look. It upscale ambiance in your living room along with adding style with sunmica design for the TV unit. It adds a touch of elegance and refinement to your decor.
Retro Vibes Sunmica Designs For TV Unit
If you want to create a nostalgic and retro vibe in your entertainment space, you can use a sunmica design with funky patterns and bold colors. It can add a fun and playful touch to your TV unit. The patterns here can be spiky bold or refined pastels, anything that matches your vibe and preference.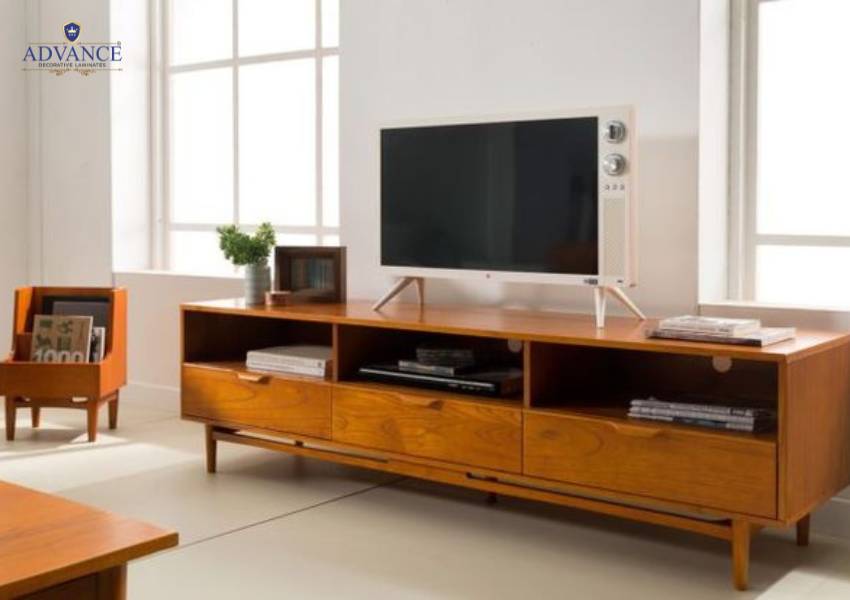 Charcoal Laminates For TV Unit
Charcoal laminates for TV units have a sleek and modern appearance that can instantly elevate the look of any living space. The dark charcoal color provides a subtle yet stylish contrast to lighter colored walls and furniture. Incorporating charcoal laminates into your TV unit design can create an attractive focal point in your room that is both functional and aesthetically pleasing.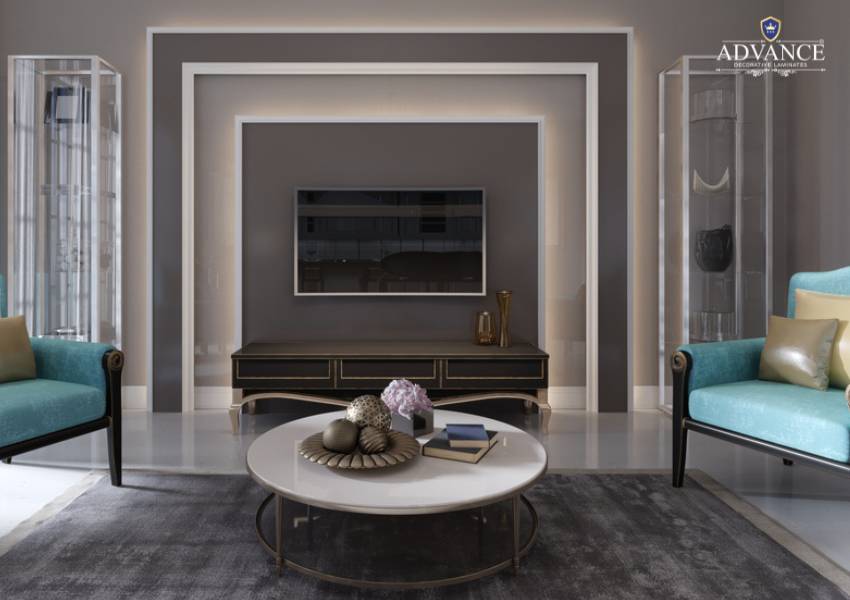 Bright Colour TV Unit
Bright color TV units have a bold and eye-catching appearance that can bring energy and personality to any living room. The vivid colors add a touch of vibrancy and fun to the room, making it more lively and inviting. Incorporating a bright color TV unit into your decor can instantly make your place more attractive and exciting.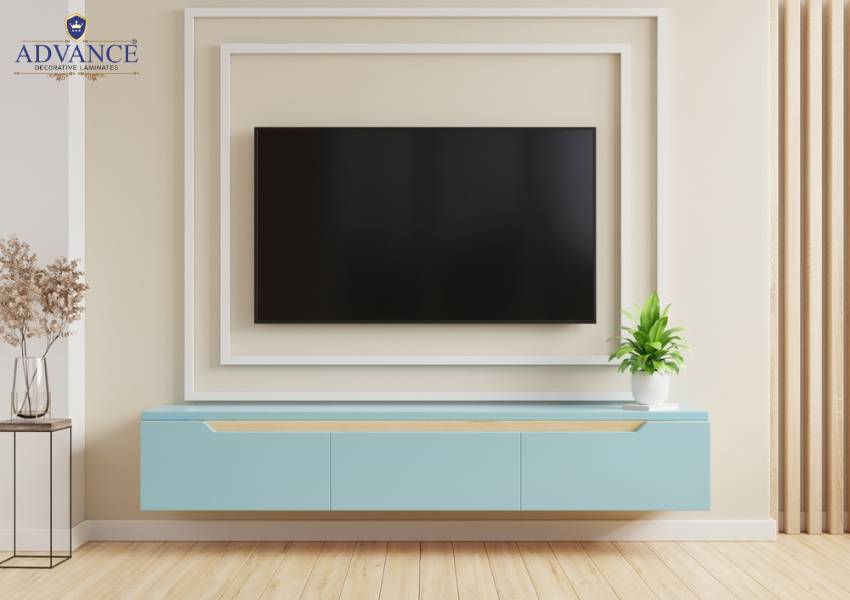 Hexagonal Glass TV Unit
A hexagonal glass TV unit has a unique and modern appearance that can add an interesting focal point to your living space. The geometric shape and transparent material create a sleek and minimalist look that blends well with various decor styles. Incorporating a hexagonal glass TV unit into your decor can make your place more attractive by adding a touch of elegance and sophistication.
High-Gloss Sunmica Designs For TV Unit
A high-gloss finish TV unit has a sleek and modern appearance that can add a touch of elegance to any living space. The glossy surface reflects light, creating a visually stunning effect that can brighten up the room. Incorporating a high-gloss finish TV unit into your decor can make your place more attractive by adding a touch of sophistication and luxury.
Textured Wood Grain TV Unit
A textured wood grain TV unit has a natural and rustic appearance that can add warmth and character to any living space. The unique texture and grain patterns create a visually interesting effect that can complement various decor styles. Incorporating a textured wood grain TV unit into your decor can make your place more attractive by adding a touch of organic and earthy charm.
Brick Wall Sunmica Designs For TV Unit
A brick wall Sunmica design for your TV cabinet can add an industrial touch to your living room. Mimicking the look of natural brick walls, it can create an urban or loft-style vibe in your space. Applied to the front of the TV cabinet, it can give the illusion of a brick wall without the expense and effort of actual brickwork, making it a stylish and practical option for your home.
Geometric pattern Sunmica Designs For TV Unit
A geometric pattern Sunmica designs for TV unit can add a modern and stylish touch to your living room decor. With bold and sharp lines, it can create a sense of visual interest and texture in your space. When applied to your TV unit, the geometric pattern Sunmica design can make your home look unique and on-trend. It gives a contemporary feel to your living space.
Natural Stone Finish For TV Cabinet
A natural stone finish for your TV cabinet can be a beautiful and elegant addition to your living room decor. This finish imitates the opulent appearance of natural stone like marble or granite, enhancing the style of your living area. A natural stone finish for your TV cabinet has a timeless and sophisticated appeal. It can seamlessly blend with different interior design styles and add glamour to your home. Additionally, it is practical, durable, and easy to maintain. Choosing it can enhance your living room's overall aesthetic.
Conclusion:
In conclusion, sunmica designs offer a versatile and stylish way to upgrade your entertainment space and give it a fresh new look. Add any style and vibe to your TV unit from marble to retro and futuristic designs. With these 10 stylish sunmica designs for TV units can transform your living room and make it a comfortable and inviting space for you and your guests. So, if you're looking for a simple and affordable way to upgrade your entertainment space, consider these sunmica designs for your TV unit. We hope this blog has inspired and helped you find the perfect design for your home.
If you have questions about Sunmica Design for TV unit simply call 9821698171, or write to us at [email protected]
Kitchen is the place from where you start and end a day; Everyday! So it must have some special effects to make it more happening and elegant, outstanding from the rest of your home. But the question arises how and with what? Thus, to simplify your doubts, we recommend you to bring out the kitchen laminates in the best possible way. It's easy to choose, simple to get from market, handy to apply while renovating a home, and within the best reach in terms of pricing.
What's new in the market? A question you must answer before selecting laminate sheet for any purpose be it for bedroom doors, bathroom shelves, kitchen, etc. As this architecture and interiors trends are very flexible and short lived, it keeps on changing and altering as per the surroundings and areas. Talking about the current scenario, today we are visualizing a lot of colour changing patterns, in textiles, interiors, decorative items, and so on.
Pastels are often referred to as the muted colour palette. Adventurous is a word that is not associated with this palette but new trend looks to change this unsaid interior fashion rule. Architectures and interior designers are now expected to lend a twist to pastel shades into the home. The subtle nature of this colour palette can add an understated beauty to any home décor. While this palette of toned-down shades is often perceived as feminine, they can be a great choice for the fashionable modern interiors who is not afraid to experiment as well.
If you have a dark shade flooring all over the home and you are aspiring to make furniture and other things in contrast then keep it as simple as Pastel! Undoubtedly you can choose pastel coloured kitchen laminate to keep it light and evergreen. Moreover, these subtle colours for home furnishing are very pleasing and soothing to eyes and never get you bored ever.
As the saying goes, the living room tells the wealth, the kitchen tells the taste. In this respect, Advance Laminate have long been a force to reckon with in influencing the design of laminate sheet as an integrated design of the kitchens becomes the mainstream of today's home decoration. It not only brings great visual impact, but also reflects the extravagant taste of the kitchen.
Thus, Laminate sheets are the inspirations which are not just based on visuals but have a deep connect with the way you feel. Advance Laminates presents designs and textures which capture the imagination of designers across the world. We assure quality, quantity, and worth in our each and every product that we sell across the nation. In addition to it, our presence says it all that Advance Laminate is a company that you can witness anywhere and everywhere in India. The best thing about us is that we provide laminate sheets at the most affordable pricing catering to range of varieties that you might need while renovating and relishing your home décor or furniture to make it look more advancing and attractive.
You build the home to make a living but decorate it to aspire the living style! Modern design materials, when mixed with a bit of creativity, it comes up with a great combination of decorativeness whether in your home or office in a unique and sustainable manner. The best and easiest way to put your choices and make home a better looking place is making wise selection in door, kitchen, room almirahs laminates.
Yes, they are one of the most integral part of decorating your interiors without much of efforts and scrutiny which takes place in other interiors selection. Available in an array of shades and textures, laminates offer a wide range of creative applications in residential as well as professional settings. Laminate designs are so varied that they can be used in any living space and for different purposes.
To keep you up with what is Laminate, here we go. It is made by mixing resins with thin layers of paper, and is a preferred finish for different surfaces like wood and MDF. In layman terms, it is a thin sheet that is put over furniture, kitchen shutters, wall panels and even flooring. It comes in various colours and prints, thus, making it an attractive option in home decor.
Moreover, following the trends and fashion that prevails in the market is another aspect which a user must look for before choosing the laminates sheets for different areas. Nowadays solid colored laminate sheets are in as a architecture trend, which leaves as with a lot of options to explore from.
Laminate sheets comes in a variety of colours ranging from whites, greys and browns to sometimes even reds, greens and blues. But what comes in a larger variety are the shades of popular colours like greys and browns. There's ash, cherry, oakwood, graphite, sandstone, granite, walnut and multiple other shades that range from light to dark.
Solid colors can be best opted for almirah doors, TV panels, or sometimes in contrast at the kitchen. One must also keep other things like colour and shades of bed, flooring, other decors in check before opting for colours of laminate sheets. It keeps a room décor intact and integrated.
Another, thing to consider is choosing high-pressure and low-pressure laminates which are basically named after their respective production processes. So, if you're using MDF for your furniture or in the kitchen, go for LPL; but if you're going for plywood furniture and storage, use HPL.
And to get best of the result try, Advance Laminates HPL exterior cladding which uses either European or Japanese decorative papers as a material that assures its consumers there will be no quality issues like colour fading of the laminates when subjected to weather extremities. We are certain of the fact that our laminate sheets are more durable, lasting, and contemporary in designs.
Home is where heart is, it is that one place where you always come at the end of the day weather it is good or bad. Also your home should tell the story of what you are. Decorating your house is something which you can't just do once and settle down. It is an ongoing process.
There are some areas which are done for durability, sustainability and according to trends which are in. Laminates are one such decision which can highly impact the interiors and exteriors of your home. PVC laminates are a great choice when it comes to all kind of projects be it residential or commercial and for all types of elements be it flooring to furniture.
But how to choose the best decorative PVC Laminate it itself a great challenge. With so many brands and their marketing campaigns hovering around you, it becomes a great task to find that one brand which offers good quality, great styles and is light on pocket. So here we are sharing with you 3 critical things while you select the Decorative PVC Laminate.
1. Durability: This is the first and foremost standard that you should check while choosing one for your home. As we go for the best cement, bricks, wall paints based on their durability, so the PVC laminates should be also selected on the basis of their durability. Durability depends upon their resistance to fire, moisture, termite, water, scratches, abrasion, borer, corrosion, stain and bacteria. One should always invest in the laminate which is highly durable in nature.
2. NON TOXIC: A home is always a place where your kids, the elders and your pets have the best time. It is very important thus to choose laminate which is nontoxic. They should be free from all kinds of dangers like lead, toxins, harmful chemicals, emissions and gases. In the industries like Hospitals and Laboratories it is also very crucial to take care of such alarming situations.
3. Cost Effective: Another important and critical aspect while choosing a Laminate is its cost efficiency. With so many brands and their different qualities in the picture, it becomes very difficult to choose the best product available at the best price. So while choosing the laminate, keep in mind the services that the brand is providing at the time or sale and in form of after sale services. The product should justify the cost it possesses. It could be also determined in form of wear and tear, maintenance, guarantee and warrantee.
Advance Laminates offers a wide range of PVC Laminate that is suitable for your residential and commercial spaces. Manufactured under high pressure, the PVC laminates are Durable, Nontoxic, cost effective, easy on maintenance and packed with stylish designs. They offer variety of this product for its various purposes like office cabinets, modular kitchens, furnishing elements, walls, wardrobes, windows and door decors.
India is a land of festivities and when festivals come calling, and it's the festive spirit that revamps everyone to décor their home. Ever since childhood, we look upon to our parents and grandparents busy with interior decorations along with buying new furniture, expensive clothes, etc.
When it comes to home décor, decorative laminates are one of the biggest contributors. Perhaps during festive seasons, laminate manufacturers in India face the busiest time.
Let us take a close look at the best home décor ideas during the festive seasons:
Invest in Wooden Texture Decorative Laminates
After the adoption of Zero Finish Technology, Advance Decorative Laminates has been producing wooden texture decorative laminates that have exactly the same wood grain texture like wood veneer. It allows your furniture an enthrall look and feel.
Give a brand new look for your old furniture
As we all know, a lot of cleaning takes place during the festive seasons. So, why not give a brand new look for your old furniture with decorative laminates?
Laminates are available in a lot of designs and textures to retain the original look for years and years to come.
The color Grey makes it a win-win choice
It is a grey color that fits almost in every room. In fact, it can be paired up with dark and light colors alike. Altogether, you can do everything with this color, be it a living room, a romantic bedroom or a door passage.
Light up your home
Lights are just happy entities that can simply bring happy moments, laughter and joy. For a classic showpiece, add LED bulbs, and even a hanging lamp in the living room. It adds mesmerizing appeal during night time.
Wrap Up
Advance Decorative Laminates is one of the leading laminate manufacturers in India that can change the way your living appears.
If you are looking forward to buying the latest Advance Emporio 1mm Laminates with great design options, ASK FOR THE FOLDERS @ Toll-Free- 18001034740; 98216 98171, Email: [email protected].
ASK FOR THE FOLDERS @ Toll-Free- 18001034740; 98216 98171, Email: [email protected].
Film Faced Plywood is mostly used in High Rise Buildings, Form Work, Concrete Structures, Dams, Bridges, Highways and all other structural works. The reason being it is very light in weight. It is also resistant to corrosion attack and water. Not only this, it can be combined easily with other materials. Furthermore it is very easy to cut and clean.
When it comes to decorative surface material, laminates top the chart. Available in a variety of colours, design and patterns, laminates successfully satisfy the needs and demands of homeowners as well as interior designers. Simply put, laminates are decorative materials which are applied on the top of a substrate such as wood, plywood, MDF (medium-density fireboard) or a particle board to give it a stylish finish. Laminates are extremely durable and low maintenance surface finish options which are easy to apply on vertical as well as horizontal surfaces. Popularly, it is known among users as Sunmica laminates.
Choices are endless:
Highly versatile in nature, laminates can adorn any corner of your home or office. Not only they are aesthetically appealing, but extremely durable and add strength to the surface. Advance Decorative Laminates, a leading brand of laminates, provides a huge variety of eye-catching laminates to enhance the appeal of your space. The products come in a variety of forms to suit individual needs and taste.
There are specially designed laminates for the kitchen area. As expected, colour and design options are endless. There are HD gloss laminates for a superb finish and add a dash of luxury to the space. It is the best fit in modern interior plans. Next popular choice is laminates in metallic finish. These are special products with a shiny surface finish and carry additional strength to impart durability to the surface. Besides kitchen, they are perfectly applied on other areas too.
Then there are simple liners, laminates with lining which are well-suited for structures such as tables, wardrobe, table drawers, shutters and other furniture items to give a rich and stylish finish. There are myriad colour options to choose from.
Laminates for kid's room are extremely popular among young parents. There are interesting options for boys and girls in vibrant colours.
Digital laminates are quite popular. In fact, they present an interesting world of art and craft to completely redefine the interior design. Available in a variety of readymade and custom designs, they provide infinite décor possibilities in classy hues.
Have laminates on mind? Explore stunning interior design possibilities with one of the leading laminate providers – Advance Decorative Laminates. Choose from the best Sunmica sheet designs in India to give a royal touch to your interior.
Customers are the resource and assets of the organization upon which the organizational success depends. Without customers, organizations would not exist. Celebrity branding or celebrity endorsement of a company's product is effective largely because celebrities have the potential to reach a large number of prospective consumers. Reach can be loosely defined as the number of people that have seen and/or heard the brand's intended message at least once. A number of such big celebrities like Anant Mahadevan, Mahima Chaudhary, Kiku Sharda, Shishir Sharma, Rakesh Bedi, Manish Thakur and Anand Desai are associated with Advance Laminate and are very happy to promote our PVC laminates. Not because they play just the role of our Brand Ambassador but also because they strongly feel that Brand is of that stature that they feel proud to be associated with it. Here we have tried to compile a few reasons why Advance Laminate is the choice of Bollywood: Glorious Brand Image: Every Celebrity wants to promote or get associated with companies who have a reputation in the market. As celebrities have a face value so does a brand and their concern is always to be associated with reputed companies and brands. Advance Laminate's PVC Laminates have set a quality benchmark in the interior designing industry. It offers some of the finest grade compact and durable laminates in India. Work ethics and Values: Our Celebrities do feel that they have a connection to the company's vision, mission, aims and objectives. Advance laminates is a result oriented Company that creates value based association amongst the business circle and a sense of expansion and reward among the end user by exhibiting the best product which will be affordable, best quality, on time delivery, genuine product. And that is exactly what our ambassadors choose to do with their commitments. Quality Product and Infrastructure: Our Celebrities have used our products and hence they know what they are promoting amongst their fan following. The quality products of Advance Laminate speak for themselves. Also the facilities in which these products like Laminate sheets are being manufactured are as per the guidelines. The 1,50,000 sq ft robust manufacturing unit is endowed with the latest technologies. Advance Laminate is the name reckoned with international quality and superlative design. Recognitions: The celebrities are always conscious of the products which they are promoting, hence it becomes very important for them to have the backing of reputed and authentic certifications agencies who assure that the company is manufacturing quality products which are safe for both the customers and the environment. Advance Laminate is an ISO 9001:2000 certified company. The company is equipped with an excellent team of experienced professionals, the latest communication networks and a management culture which believes in giving superior services to the customers. The company holds various certifications and recognitions from reputed Certifying Agencies of India and World. As it is important for the brand to select the right Celebrity, it becomes very important for the Celebrities also to select a Brand which has a reputation in the market and is doing fair and justice for its customers in terms of quality, service and ethics of business.